I've been on a mission to find the absolute perfect sex toy for distance domination.  I wasn't aware of it until I began my search, but there is a term for it, and that is teledildonics.  I don't know why, but that makes me grin.
I've not yet found exactly what I am looking for.  Frankly, I don't even know if it exists in, and considering this is 2012, that is a shame.   I want something that doesn't cost thousands of dollars,  is easy to set up for the technically challenged, and does not require the recipient of sensation to be tethered to their computer, or even close to it.  I also want something that has devices that will work for men who want me to remotely control a simulated stroking as well as those who want me to fuck them from a distance.  I'm still looking, but after many hours of searching, I've decided that this would be a really good market for someone to own, as it seems to be wide open.
Exploring with a High Joy
Since I had a sissy slut who was frothing all over her lipsticked lips to get started, I decided to go with a product from High Joy.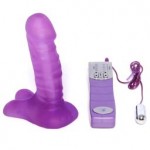 As sissy wanted her greedy hole stuffed, I told her to order the Doc Johnson HighJoy Enabled iVibe Controller w/ 6″ Vibrating Ballsy.  She did, and in addition to setting up premium accounts for us both, she had a unit shipped to me so that I could see what the sensations were like. The image to the right is exactly what we both got.  At the time of purchase, it was the only product offered that was really going to work for playtime with a sissy. Amazon offers a High Joy  product that may be what you are looking for.  I didn't know how the rabbit apparatus would work with her, so I passed on that.
 An Overview of the High Joy – Pros and Cons
I'm not going to go on at length about what the toy doesn't do that I knew it wasn't capable of before I got it. For instance, I knew that in order for me to use it on my slut that her device would have to be connected to a computer.  That isn't a match for my ideal toy, but I knew that going in.
If you are considering purchasing one, see the product page on their site for what comes with it, and the system requirements.  As of this writing, they are including the serial to USB adapter for free, which I think is a good plan on their part.  I don't know why it wasn't designed to work with a USB connection in the first place, but perhaps they have a very good reason that is above my technical knowledge.
The toy itself seems to live up to the Doc Johnson name.  Overall, I am not a fan of the jelly texture of the dildo part, and neither is my sissy.  I would much prefer something that was of the same substance as the realistic dildo line from Doc Johnson.  I was watching my sissy on cam, and I could tell that she was having a difficult time inserting it.  I assure you that was due to the jelly material, not due to her ability to stuff something up her hole.
The possibility certainly exists that they have to go with the softer substance to let the vibrations transmit through it.  I'm not sure, but for us, it worked best to just play with the bullet and forget about the dildo.
As a side note, I had a question about set up, and the customer service team was back to me within an hour.
The Interface
The interface could use some work in terms of usability.  While I don't feel that everything in the world must be changed to a Web 2.0 design,  it's clunky, and seems like it may have been designed in the 90's.  From an end user's perspective, it is lacking.
For example, when I am logged in, and I tell it that I want to connect to a remote user, and I enter slut's username, nothing happens on my end.  It would be good to have a notification telling me that it was waiting on the other party to accept me taking control of their device.  As is, I had no way of knowing, and I hit the button again.  That did give me a message that I had already sent a request.   That's a small thing, but one that caught my eye.
Once I have actual control, a popup console is on my screen, and that allows me to click through the various settings, as well as pausing the device, or relinquishing remote access.
I like the pause feature.  Especially when slut is at the crest of neediness. ~soft laugh~
The lag time was surprisingly minimal.  Thus far, it has been most noticeable when initially establishing the connection.
On to the Good Stuff – Actual Playtime
As mentioned above, the jelly aspect of the dildo just wasn't working for us.  If one were using it vaginally, they might have different results.  I decided that we could use the bullet in conjunction with some other fun items, and it would probably be fun to play with.
I was right.  It worked splendidly when held against her sissy stick, her sissy sack, ran over her nipples, teasing her sissy cunt, etc.
In conclusion, while it is not the internet controlled sex toy of my dreams, the High Joy is fun to play with.  I think that the psychological aspect of knowing that I was the one operating the controls was a huge one, judging from the way my sissy was rolling around on her hotel bed, moaning and leaking all over the place.  That said, it has it's own merits as a stand alone sex toy, though I'd probably not purchase the particular model that we did for that use only.
Have you ever been on the receiving end of a remote control sex toy?  What setup did you use, and what did you think about the experience?